High-performance quad-core NAS for reliable home and personal cloud storage

Powered by quad-core 1.7 GHz processor, the TS-231K provides 2 drive bays storage space to securely store your important files and data, while allowing you to easily share files with family and friends. Featuring a compact pure white minimalist design, the TS-231K can easily integrate with any home décor and takes up very little space. The TS-231K comes with lockable drive trays, ensuring the drives will not be accidentally removed or fall out and cause data loss. The TS-231K provides comprehensive local, off-site and cloud backup and secure Snapshot technology to help create a reliable backup and disaster recovery plan. In the event of a system crash or accidental file deletion, you can quickly restore the system to its normal state.

File Station enables centralized file management on the NAS, connected devices, and connected clouds, making data management more easily, while saving time.

HBS (Hybrid Backup Sync) can backup and sync your data to other NAS, servers and cloud storage for comprehensive backup and disaster recovery.

Snapshots fully record system status and data, allowing you to protect files and data from accidental deletion and malware attacks.

Rich multimedia applications and a wide range of streaming methods, bringing greater multimedia enjoyment.

Connect to external USB devices such as card readers, printers or uninterruptable power supply through the USB 3.2 Gen 1 port for greater application potential.

myQNAPcloud service allows you to easily access, manage, and share NAS files via the Internet.
TS-231K
Annapurna Labs AL-214 quad-core 1.7 GHz processor, 1GB RAM, 2 x GbE ports
Quad-core CPU drives higher performance
The TS-231K is powered by a quad-core 1.7 GHz CPU that features more CPU cores to enhance system performance. With 1 GB RAM, two Gigabit LAN ports, and SATA 6 Gb/s drives, the TS-231K delivers high performance, while also maintaining data security. The TS-231K also features three USB 3.2 Gen 1 ports, allowing you to transfer large media files between the NAS and your devices. The USB port on the front panel supports one touch copy, making it convenient for you to backup data on your external device to a NAS or vice versa with just one click.
Learn More: USB 3.2 Gen 1 on 5GbE adapter
TS-231K with QNA-UC5G1T Adapter 10GB Windows File Transfer
Windows 2 x GbE SMB sequential throughput
Windows 2 x GbE SMB sequential throughput, encrypted volume
Tested in QNAP Labs. Figures may vary according to environment.
TS-231K with QNA-UC5G1T Adapter 10GB Windows File Transfer
Test Environment:
NAS: TS-231K
OS: QTS 4.4.2, Windows upload/download, MTU-9000
Volume type: RAID 1, 2 x Samsung 850 Pro 512GB
Client PC:
Intel® Core i7-6700 3.40GHz CPU; 64GB RAM; Intel X550 NIC with MTU-9000; Windows® 10 Pro
GbE Transfer
Test Environment:
NAS: TS-231K
OS: QTS 4.4.2
Volume type: RAID 1, 2 x Samsung 850 Pro 512GB
Client PC:
Intel® Core TM i7-6700 3.40GHz CPU; 32GB RAM; Intel i219 GbE NIC, Windows® 10 Pro
IOmeter: RAM*4, 30-sec ramp-up time, 3-min seq. run time, 2 workers, 64 outstanding, 1MB.
Easily Create a High-speed Network Environment
You can use QNAP USB 3.2 Gen 1 on 5GbE adapters (QNA-UC5G1T) with the TS-231K or your computer. By connecting the NAS and PC through the 5GbE adapters, you can create a 5GbE network connectivity for nearly 300 MB/s transfer speed.
Boost productivity with QNAP applications
QNAP File Station provides centralized file management, allowing you to view and manage files on your TS-231K and other storage sources or external devices, which allows you to easily share files with family and friends through email, social media, or share link. You can also use Qfile mobile app to access NAS files from a mobile device.
File Station allows you manage files stored on your QNAP NAS in your cloud space, or from USB card reader and mobile devices. You can easily access all your data from a single application.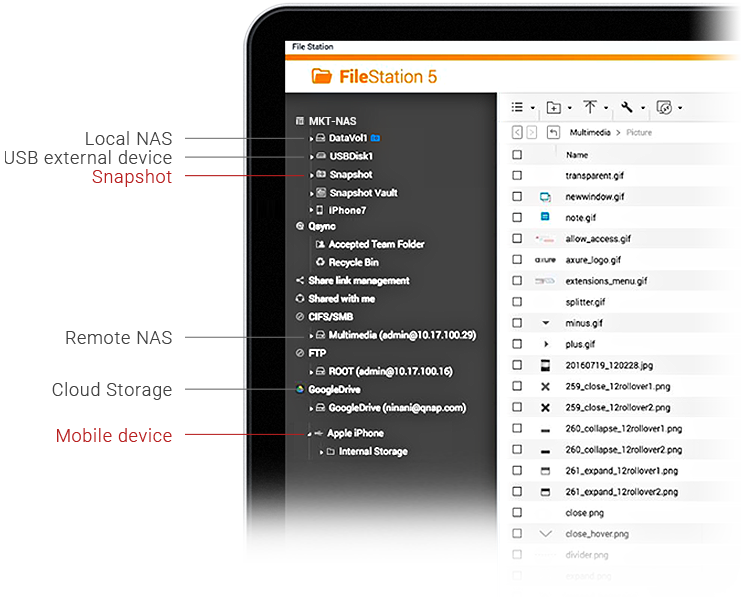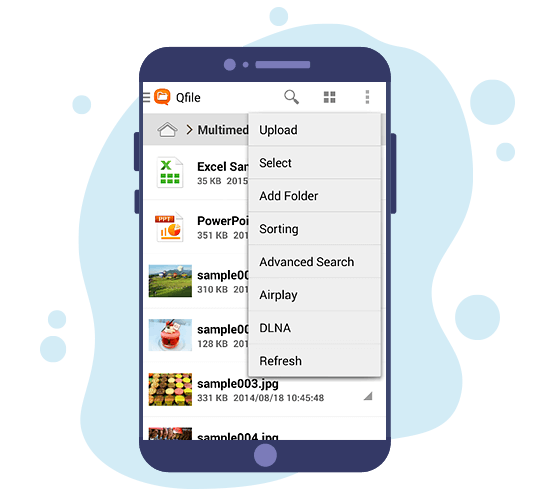 Qfile mobile app allows you to access NAS files from a mobile device anytime anywhere, while uploading and backing up files on your phone to a NAS.
Protects your sensitive data with file encryption
When sharing sensitive or confidential files on your TS-231K, you can enhance data security with File Station by encrypting files into .qenc files and set a password. The file recipients need to download and install QENC Decrypter on their computers and enter the correct password to decrypt, view, and use encrypted .qenc files.
Note: The computer must run on Windows 8 (or later) or macOS 10.12 (or later).
Protect data against malware with Snapshots
Snapshots help protect your data by fully recording the NAS system status and metadata. If a file is accidentally deleted or modified, you can use snapshots from the Storage & Snapshots Manager or the File Station to quickly restore files to its previously-recorded state. QNAP snapshots are block-based and only record changed data. Not only does this save storage space, but it also reduces time required to back up and restore data. The TS-231K supports up to 16 snapshots per volume/LUN, and up to 32 snapshots in total.
Multi-point file backup, access, and sync
HBS (Hybrid Backup Sync) consolidates data backup, recovery, and synchronization, allowing you to easily backup or sync data to another QNAP NAS, and remote server or cloud storage (e.g. Dropbox® or Google® Drive) to build a reliable disaster recovery solution. Qsync turns the TS-231K into a secure, high-capacity data center for file synchronization. Any file uploaded to the TS-231K will be made available for all linked devices, such as computers, laptops, and mobile devices. You can also sync shared folders or create team folders to enhance team collaboration. Windows/ Mac computer file backup
QNAP NAS provides a simple solution for backing up/restoring laptops and desktops. You can use QNAP NetBak Replicator to backup files on Windows® computers, including Outlook® Email archive. The NAS also supports Time Machine® on Mac® devices, enabling easy, fast, and convenient data backup.
Greater multimedia enjoyment
The TS-231K comes with a wide range of media applications, including Photo Station, Video Station and Music Station, allowing you to easily manage and view your media files. You can also download Plex Media Server to turn your TS-231K into a multimedia server.

Features intuitive interface for you to arrange your photos by drag and drop. You can set access permission and can easily share photos to social media. By installing Qfile or Qphoto mobile apps on your mobile device, you can quickly upload your phone photos to TS-231K.

A management tool for you to easily manage the videos on the TS-231K according to different categories from a single interface. You can stream videos through DLNA®, Apple TV (via Qmedia) and Chromecast™* to different devices.

*To stream videos via Chromecast, download and install the multimedia extension pack app from the QTS App Center.

Allows you to organize all your song collections by category, and automatically retrieves album covers, making it easy for you to customize playlists and play songs anytime and anywhere from the web-based interface. Music Station also provides Internet radio service for you to listen to any global Internet radio program.

Install Plex Media Server on the TS-231K and stream media files on your NAS to Roku®, Apple TV (via Qmedia), Google Chromecast™, Amazon Fire TV® for you to enjoy files on your mobile phones, tablets, DLNA® devices or on a TV.
Easy Photo Management with QuMagie-Enabled AI Automated Photo Categorization
QuMagie brings you a brand-new photo management experience. By integrating an AI deep-learning algorithm, QuMagie enables facial recognition, object identification, and geography tagging of photos on your NAS. Similar photos are grouped together in the AI Albums (i.e., People, Things, and Places). Other useful features include a built-in timeline scroll, customizable folder covers, and a powerful search tool, providing you with the ultimate photo management and sharing solution.
Extend hardware warranty up to 5 years
The TS-231K is backed by a 2-year warranty at no extra cost. You can purchase a warranty extension to extend your warranty coverage up to five years.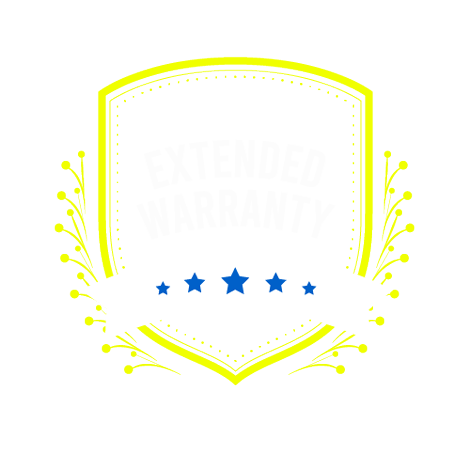 Comprehensive surveillance solution for 24/7 security
Surveillance Station features a user-friendly interface, supports over 5,000 compatible IP cameras, and provides expandable IP camera channel licenses, allowing you to build a comprehensive surveillance system for real-time monitoring, video and audio recording and playback. You can use the Vmobile app on your mobile devices to manage the monitored channels anytime and anywhere. You can also use QUSBCam2 App to add USB cameras into the Surveillance Station to view real-time images, store recordings for playback, allowing you to build a surveillance system on minimum budget.
Use USB webcams as IP cameras
Flexible and economical storage expansion
QNAP provides easy storage capacity expansion solutions. Here are several ways to expand your TS-231K storage as needed to accommodate data and business growth: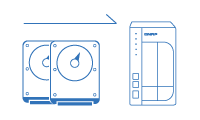 Hot-swap lower-capacity drives with larger-capacity drives to expand your QNAP NAS capacity so it can grow with your business.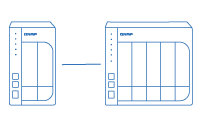 Connect two RAID expansion enclosures (TR-004 or TR-002) or one USB 3.2 Gen 2 JBOD (TL-D800C) and use the QTS Storage & Snapshots Manager to easily handle NAS capacity expansion.

*The expansion enclosure can only be used as an individual storage pool or volume on the NAS. Its storage pool/volume cannot be combined into the connected NAS.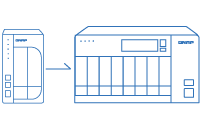 Install your NAS hard drives into a larger QNAP NAS and retain all your existing data and configurations.