All-in-one backup solution across physical, virtual and cloud
Veritas™ is one of the top-rated providers for balanced physical and virtual environments, according to a Gartner Magic Quadrant for Data Center Backup and Recovery Solutions report. With the cooperation of QNAP and Veritas Backup Exec™ solution, QNAP NAS has become an all-in-one high-performance backup server, flexible data storage, and provides strong backup and recovery capabilities across physical, virtual and cloud environments.

All-in-one backup solution for virtual, physical and cloud environments, reducing the total cost of ownership (TCO).

Fast virtual machine snapshots for utmost data protection. Minimizes CPU, memory, and I/O load performance impacts on the virtual host.

Instant recovery of VMware® and Hyper-V® virtual machines, providing an immediate usable copy of the server and data for disaster recovery, testing and application deployment.

Integrated global deduplication and tracking of the changed blocks to minimize recovery time and disk space required for backup files.

Veritas Backup Exec™ – compatible with most storage devices including disks, tapes and clouds.

Integrated bare-metal, physical to virtual (P2V) and virtual to physical (V2P) recovery to ensure optimal runtime.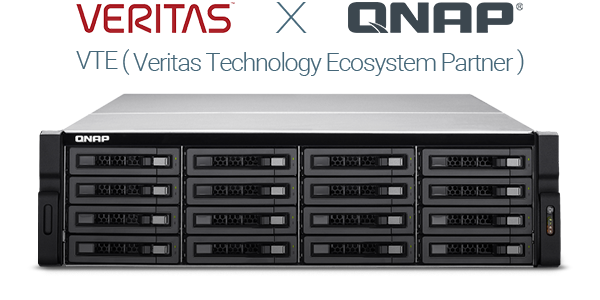 QNAP high-performance storage technologies
QNAP NAS provides a reliable solution for data storage, backup and recovery needs with secure RAID configuration (including RAID 50/60) and snapshot protection. Some models allow for configuring SSD caching and coupled with Qtier auto-tiering technology, you can enjoy a boosted NAS performance, while also maximizing your storage efficiency. Certain models also come with 10GbE support to provide excellent network connection speeds and to future-proof your IT infrastructure for 10GbE networks.
Learn more: Volume & LUN Snapshots, SSD cache, Qtier, 10GbE NAS Solution
Ultimate backup efficiency comparable with a server
Instantly turn your QNAP NAS into a backup appliance and immediately perform virtual machine or physical machine backup tasks on the QNAP NAS by installing Veritas Backup Exec™ on Microsoft® Windows Server® running in QNAP's Virtualization Station. With the powerful hardware performance of QNAP NAS, your backup tasks can quickly be completed, allowing you to enjoy server-like backup efficiency.
Disaster recovery from P2V and V2P
Veritas Backup Exec on QNAP NAS provides both physical to virtual (P2V) and virtual to physical (V2P) data recovery, allowing businesses and organizations to quickly restore their systems to a previously-normal state if disaster strikes to reduce system downtime and to minimize losses.
Backup to the cloud for an extra layer of protection
Veritas Backup Exec can backup your backed-up data on QNAP NAS to another local/remote storage devices or public cloud services (including Amazon®, Google® and Microsoft®), providing your valuable digital assets with multiple layers of protection. Routine backup replication tasks can be scheduled to provide an efficient disaster recovery solution based on your needs.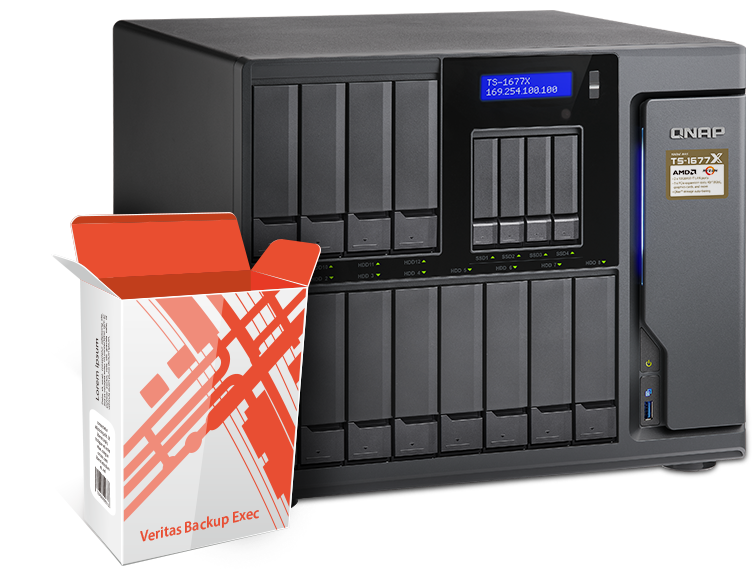 Benefits of Veritas Backup Exec on QNAP NAS
Consolidate your backup infrastructure and leverage the scalable storage of QNAP appliances.
Simple implementation and management
By installing Veritas Backup Exec server in the QNAP appliances, client machines can be protected with just a few easy steps.
Performance and scalability
Featuring powerful hardware capabilities, QNAP appliances can run multiple backup jobs (including VM, server) simultaneously without affecting system performance.